Welcome!
These are the pages of The Heidelberg Irish Set Dancers.
Fellow dancers are always welcome!
Where we dance
every Thursday
20.00 - 22.00 h
in the Freien Evangelische Gemeinde
in Ladenburg, Wichernstr. 38
(near the railway station)
Map
€ 2,00 per night
What is Setdancing?
If you do not know what Setdancing is, here an explanation ... more
in 2012 the 15th anniversary
in Heidelberg
4 Céilithe in
3 days played by
2 Bands
05.10. - 07.10.2012
The Abbey Céilí Band
This is going to be their 11th time in Heidelberg.
Triskell Céilí Band
After 2011, once more!
With Mairéad Casey
Back by popular demand!
Workshopset
Workshops
Here are the workshops for the coming months
... more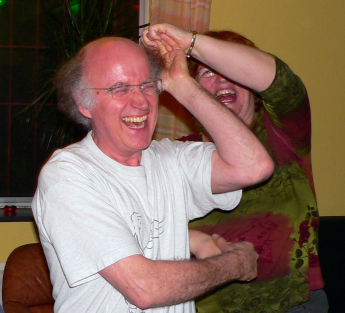 Merry dance Greetings!
The Heidelberg Irish Set Dancers